First4venues FAQs...
Q) How can your venue finding service be free?
A) We are paid a commission by the selected venue that we book on your behalf, similar to a travel agency.
Q) Does this mean that we pay more?
A) No, this does not effect the price that you pay and our relationships with the venues and the volume of business that we give them, enables us to negotiate the best possible rates at all times.
Q) What types of venues can you offer?
A) We work with all different types of venues from Hotels, Conference Centres, Academic Venues, Sporting Stadiums, Exhibition Halls, Stately Homes and Theme Parks, even Boats.
Q) Do you only deal with large bookings?
A) Definitely not, we deal with bookings of any size.
Q) What different types of room layouts are there?
A) Please see the diagram below for the different layouts: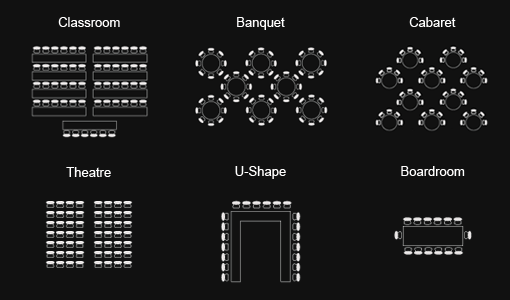 Q) What happens if I decide to book?
A) Just let us know and we will book the venue and get all the relevant documentation sent out to you.
Q) Can you arrange a viewing of a venue for us?
A) We can arrange all aspects of the visit and accompany you if required.
Q) Do you only work with venues in the UK?
A) No, we work with any types of venues worldwide.
Q) Can you help with other requirements?
A) Yes, please see Our Services for more information however if there is something else that you require please just call us.
Q) Is there any 'small writing'?
A) No, there isn't any! We are a totally FREE venue finding service with a personal touch.